"Nothing else can survive a holocaust, but poetry and songs. No one can remember an entire novel. No one can describe a film, a piece of sculpture, a painting. But so long as there are human beings, songs and poetry can continue." – Jim Morrison
I think the self-interview is the essence of creativity. Asking yourself questions and trying to find answers. The writer is just answering a series of unuttered questions.
I guess I see myself as a conscious artist plugging away from day to day, assimilating information.
I think around the fifth or sixth grade I wrote a poem called "The Pony Express." That was the first I can remember. It was one of those ballad type poems. I never could get it together, though. I always wanted to write, but I always figured it'd be no good unless somehow the hand just took the pen and started moving without me really having anything to do with it. Like, automatic writing. But it just never happened. I wrote a few poems, of course.
Like, "Horse Latitudes" I wrote when I was in high school. I kept a lot of note books through high school and college and then when I left school for some dumb reason — maybe it was wise — I threw them all away. There's nothing I can think of I'd rather have in my possession right now than those two or three lost notebooks. I was thinking of being hypnotized or taking sodium pentathol to try to remember, because I wrote in those books night after night. But maybe if I'd never thrown them away, I'd never have written anything original — because they were mainly accumulations of things that I'd read or heard, like quotes from books. I think if I'd never gotten rid of them I'd never been free.
(Excerpted from Jim's interview with Jerry Hopkins, July 26, 1969)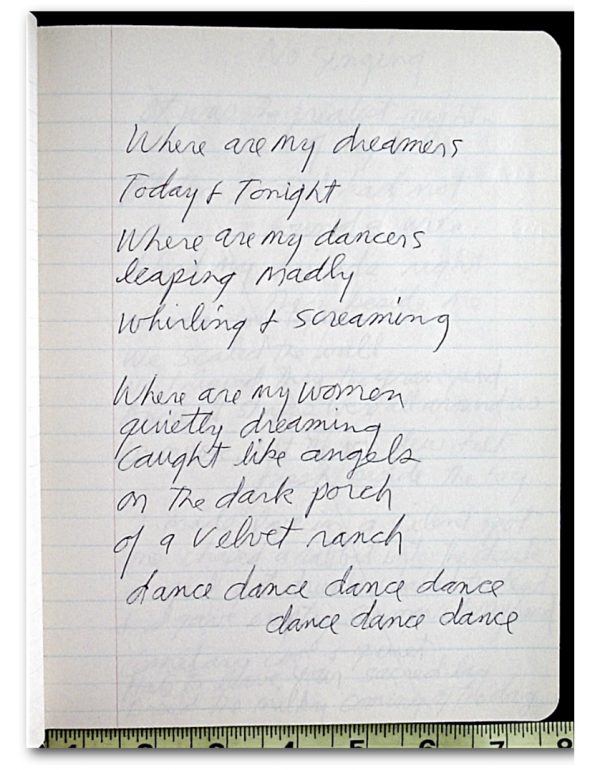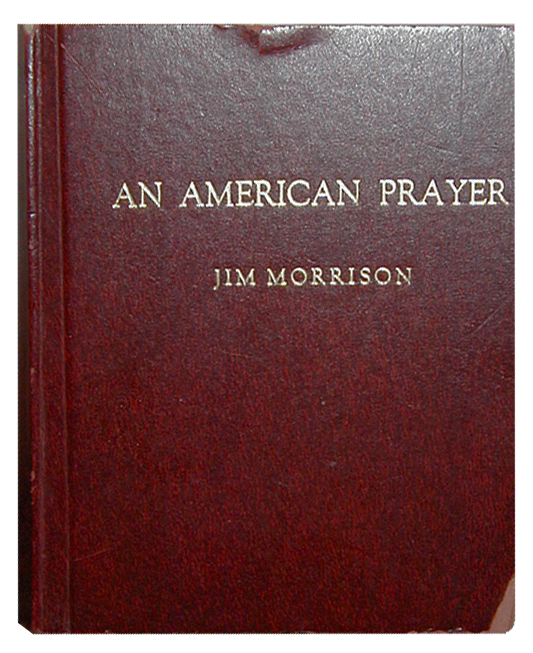 An American Prayer

Published: 1970
A 40-page small red leather-bound book of poetry with embossed gilt lettering on the cover reading An American Prayer/Jim Morrison. Self-published by Morrison in the summer of 1970 with only 500 copies printed by Western Lithographers (Los Angeles), the poems are mostly short and succinct.


A voracious reader from an early age, Morrison was particularly inspired by the writings of several philosophers and poets. He was influenced by Friedrich Nietzsche, whose views on aesthetics, morality, and the Apollonian and Dionysian duality would appear in his conversation, poetry and songs. Some of his formative influences were Plutarch's Parallel Lives and the works of the French Symbolist poet Arthur Rimbaud, whose style would later influence the form of Morrison's short prose poems. He was also influenced by William S. Burroughs, Jack Kerouac, Allen Ginsberg, Louis Ferdinand Celine, Lawrence Ferlinghetti, Charles Baudelaire, Molière, Franz Kafka, Albert Camus, Honoré de Balzac and Jean Cocteau, along with most of the French existentialist philosophers.
Morrison began writing in earnest during his adolescence. At UCLA he studied the related fields of theater, film, and cinematography. He self-published two separate volumes of his poetry in 1969, titled The Lords / Notes on Vision and The New Creatures. The Lords consists primarily of brief descriptions of places, people, events and Morrison's thoughts on cinema. The New Creatures verses are more poetic in structure, feel and appearance. These two books were later combined into a single volume titled The Lords and The New Creatures. These were the only writings published during Morrison's lifetime. The Lost Writings of Jim Morrison Volume I is titled Wilderness, and upon its release in 1988, became an instant New York Times Bestseller. Volume II, The American Night, released in 1990, was also a success.
Morrison recorded his own poetry in a professional sound studio on two separate occasions. The first was in March 1969 in Los Angeles and the second was on December 8, 1970. The latter recording session was attended by Morrison's personal friends and included a variety of sketch pieces. Some of the segments from the 1969 session were issued on the bootleg album The Lost Paris Tapes and were later used as part of the Doors' An American Prayer album, released in 1978. The album reached #54 on the music charts.